Jump to contents

Related products

|

INCOME, spol. s r. o.
Mukařovského 1985/5
155 00 Praha 5
tel.: +420 251 116 000
fax: +420 251 116 020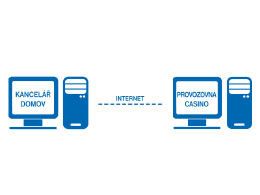 Enlarged picture in new window
WinManager
Managing and archiving data of Income Jackpot System
The WinManager application is intended for efective managing and archiving of data of Income Jackpot System (IJS) from remote arcades. The way of interconnection with IJS has several variants, as a rule its implementation depends on specific outlay of a given arcade. Basic methods of communication are direct cable connection, dial-up connection through modem and on-line connection via internet (technologies Ethernet, GPRS, WiFi, xDSL etc.), where each of arcades can have different method of communication. The prices of added communication equipment can vary in the range between CZK 2,500 and 10,000 while not always any equipment available on our market can be used.
Please ask about latest list of supported devices. Most of these devices can be obtained from us.
WinManager is an "office" application but its installation need not necessarily have its end in the company residence place.
WinManager is free, you can install it on any number of computers, e.g. on notebook or even on your home PC. The application is able to work in computer networks and owing to its simple system of user rights it can be indepedently used by several people in a company without all of them having access to all data.
As an option ServisManager program can be installed, an invaluable help tool during initial configuring of connection that makes possible even a remote replacement of version in IJS *).
Current versions of IJS as well as WinManager updates are available on internet. The inteligent detection program can identify new released versions and offers its user their automatic installation. This way it keeps your application always up-to-date.
To install the WinManager system you need:
at the side of company seat:

a computer with Microsoft Windows version 98, ME, NT, 2000 or XP
communication device (modem as a rule)
access to internet is recommended

at the side of IJS in arcade:

communication device (modem as a rule)
*) Remark: The ability of automatic replacement of program is present in IJS servers from version 3.0 up. The IJS card (J5, J6) in your server must be equipped with FLASH memories.