Jump to contents

Related products

|

INCOME, spol. s r. o.
Mukařovského 1985/5
155 00 Praha 5
tel.: +420 251 116 000
fax: +420 251 116 020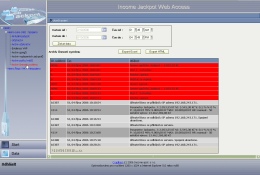 Enlarged picture in new window
Income JackWeb — web supervision over jackpot systems of Income company
For browsers Microsoft Internet Explorer 5.0 and higher
Aren't you present in your gambling-house? Do you need to get fresh data? We have a product for you: your arcades in your web browser.
Unification
Continuous accessability any time any place — just connect yourself to internet
Monitoring all your arcades or casinos same time from single screen
Unified access to several versions of jackpot systems
Safety at all levels
Standardised encoded communication via SSL between web browser and JackWeb
Standardised encoded communication between subsystems of JackWeb
Standardised encoded communication with database
Own encoded communication between subsystems of JackWeb and jackpot systems
Encoded configuration files
No data are saved, unless you explicitly use data export facilities
User friendly arrangement
Use of web browser — a tool you are accustomed to
Function set corresponds to menu "Overviews" in Jackpot system client
Structure of obtained data corresponds to the structure returned by Jackpot system client
Added value
Data exports to Microsoft Excel format — data can be used for further calculations
Data exports to HTML format — work also as print reports
Sorting of displayed data
Filtering of displayed data
Optimization of costs for phone connection with arcades
Flexibility and extensibility
Various application levels and trade models, including the possibility of having the web system operated by Income company itself
Various configuration depths — ranging from the possibility to see all your arcades under single login up to the option of entering all data manually
Assigning rights and limitation
Planned future addition of new functions including ability to administer the jackpot systems
Do not forget to view our on-line JackWeb demo!